In a couple of days time we would have reached the halfway point for June, we are already on the halfway mark of the year so it is not surprise that the months are flying by so quickly. I truly feel as though I just sat down one day, looked up and found that it is no longer May its June and I have less than 20 days before my 29th birthday which if I am honest has thrown me a bit because I feel like the almost 30 has arrived way too quickly for my liking. But then again that's life, one of my readers once said 'life is like a vacation with work breaks' and I couldn't agree more. I am not trying to keep us in slump because of how fast time is moving and just how little we seem to have accomplished so far in the year but to put things into perspective.
With that being said, I am hosting the Climb link party this week and I would love it if you could check out the posts that have been linked up and share some of your posts too.
XOXO
___________________________________________
WELCOME to Week#3 of the JUNE 2016 CLIMB!
It's the month-long Networking Blog Hop where Cohosts & Guest Cohosts are added each week for ultimate exposure! 
Networking means helping each other grow!! 
If you want to promote a CLIMB link, then use #ChainLinkyCLIMB on Twitter or Google+ so that we can all help each other grow!
Here's how the Giveaway & Guest Cohosting works – the hosts, cohosts & Guest cohosts from the previous month's CLIMB will have the opportunity to participate in a Giveaway during the next CLIMB – that gives co-hosts 2 months in a row of blog growing fun!!  (If you would like to guest cohost please sign up at the end of this post using the last "Linky")
We have 2 permanent cohosts for week#2, 3 permanent cohosts for week#3 and eventually we will have 4 permanent cohosts for week#4 making a grand total of 11 hosts/cohosts each month & that's not even including Guest Cohosts!
________________________________________________ 
Highest CLIMBer Features!!
Each permanent host & cohost will feature their favorite link from the previous month CLIMB!  Every "Highest CLIMBer" will be pinned to our Pinterest board:
Chain Linky CLIMB Pinterest board



My Highest CLIMBer from May 2016 is:
________________________________________________ 
Also, our CLIMB GIVEAWAY!
Please enter below -one person will win:
– $10 Paypal cash from God's Growing Garden
– Your choice of 2 month small Ad spaces OR 1 month large Spotlighting Ad Space (for Blogs or Online Shops) on
Butterfly in the Attic
– $30 value
– 1 Sidebar Ad Space (for Blogs or Online Shops) on
God's Growing Garden
– $10 value
– 1 "Playful Heart" Necklace – $20 value

"Playful Heart" Necklace
"

I found this pretty sage green slag glass beach stone in Lake Michigan that is kind of heart-shaped. I drilled a 2 mm hole and dressed her up with a colorful aluminum large jump ring and strung her onto a playful colorful 30 inch plastic coated metal bead chain complete with black lobster clasp. The stone measures 1 inch wide. Since the bead chain is color plastic coated, it is a bit stiffer than plain metal, but is very cute and fun to wear!"
by ShorelineDesigned
Total prize value is $70!!
CLIMB Giveaway Rules & Conditions:
– this is open worldwide (void where prohibited)
– You must be 18 years or older to enter
– You MUST have a blog to win the Ad spaces (otherwise these will become second place prizes)
– You MUST have a valid PayPal account to win the Paypal Cash (otherwise this will become a second place prize)
– You MUST have a mailing address in the lower 48 states of the USA in order to win the necklace (otherwise these will become a second place prizes)

– facebook, google & all other social media are NOT responsible for any part of this giveaway

– This Giveaway is open from June 1st, 2016 until June 30th, 2016
– Winner must respond to email within 48 hours or a different winner will be chosen
– Giveaway Hosts, Cohosts & Guest Cohosts can NOT enter this Giveaway!, however – JUNE 2016 CLIMB blog hop co-hosts ARE allowed to enter this Giveaway (provided they are not also part of the Giveaway)
– correspondence is done through email and the winner's email addresses will only be used to deliver or set-up e-prizes.  Email addresses will NEVER be sold or shared.
– All prizes will be delivered by the contributing Bloggers/Shop Owners.
– if you have any questions or concerns about this Giveaway please email one of the hosts:
Now onto the CLIMB (blog hop):
There are many ways to follow us:
Miranda @
The
Myrabev Life
Rebeca @ Lincluden Cottage Life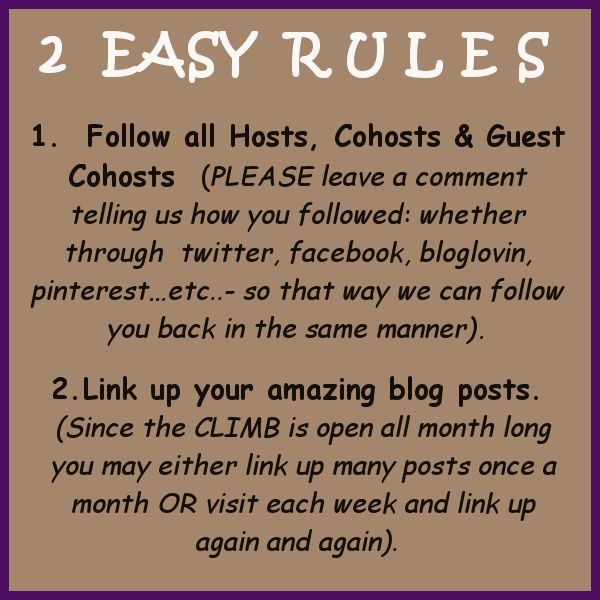 By participating in this blog hop your understand that your link might be featured &/or promoted on our blogs & social media.  Also, by participating in this blog hop your email address will be added to our CLIMB list & you will be sent an email reminder next month.

Remember – If you Guest Cohost you will receive a free Weekly Sidebar Ad and your blog button will appear on both Angie's blog & Angel's blog!!
(The Ad will run live a few weeks after you have co-hosted)
We are looking for amazing Bloggers like you to Guest Cohost the CLIMB! 
Please click the purple button below to sign up to Guest Cohost or click
HERE
!
___________________________________________